Services
Health Screening
Knowledge is power, and the more a person knows about his or her health, the better the opportunity to make positive lifestyle changes that could have a lifelong impact. Lifemark offers biometric screening for employees in order to provide them with vital health information. In only 15 to 20 minutes, depending on tests selected, Lifemark can complete a wide range of standard health screenings onsite, and provide feedback concerning an employee's risks for hypertension, cardiovascular disease, diabetes and other conditions. The employee will also receive quality one-on-one health education on identified risk factors. Additionally, the employer will receive an in-depth and comprehensive aggregate screening results and satisfaction survey report. This aggregate report is an instrumental tool for any employer to evaluate the wellness programing in place, and to continually identify top health concerns for future program design.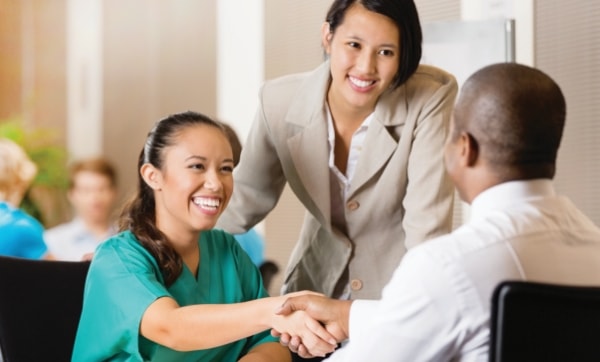 Service Offerings
With a goal to help organizations and individuals protect and improve their health, well-being and prosperity, Lifemark offers services to help employees better understand their risks for high blood pressure or hypertension, heart disease and stroke or cardiovascular disease, diabetes or obesity. To discover these risks, our health screening tests include:
Full Lipid Panel (Cholesterol, LDL, HDL, Triglycerides)
Total Cholesterol
Blood Glucose
HbA1c
Blood Pressure
Body Composition (Height, Weight, BMI, Waist Circumference, Body Fat Percentage)
We also offer a cardiac rehab program.
Booking a Health Screening with Lifemark means getting a comprehensive program. With coverage coast to coast, Lifemark is able to provide bilingual services, marketing materials to increase participation, and a customizable and branded online scheduler for employee registration. In order to tailor the screening to the unique needs of the company, Lifemark provides a dedicated service coordinator who will guide the successful implementation of the program. Each participant will receive a wallet card outlining his or her personal results, a health education pamphlet explaining each test, and one-on-one health education and coaching on identified risks. Besides the delivery of comprehensive aggregate screening results to the employer, Lifemark also has the capability to complete data transfer to a third party if required.
Our online platform makes it easy for participants to create and manage all details related to their appointment. Key contacts from the employer organization can be provided access to real-time stats on appointment registration and utilizations. Access to this portal, along with the support of your dedicated Lifemark Service Coordinator will ensure a successful planning and promotion of your clinic.