COVID-19
Testing and Screening Services
COVID-19 Testing and Screening Services
Returning to the workplace can cause understandable uncertainty, especially if you're not sure who's healthy, who's been travelling, and who is at higher risk of complications. COVID-19 testing and screening services can help alleviate that anxiety by lowering the risk of having asymptomatic or low-symptomatic people entering the worksite. Lifemark offers a number of testing and screening support services, provided by a Registered Nurse, to reassure you and your staff, and maintain a healthy workplace that people can feel safe in.
Read more about our screening services.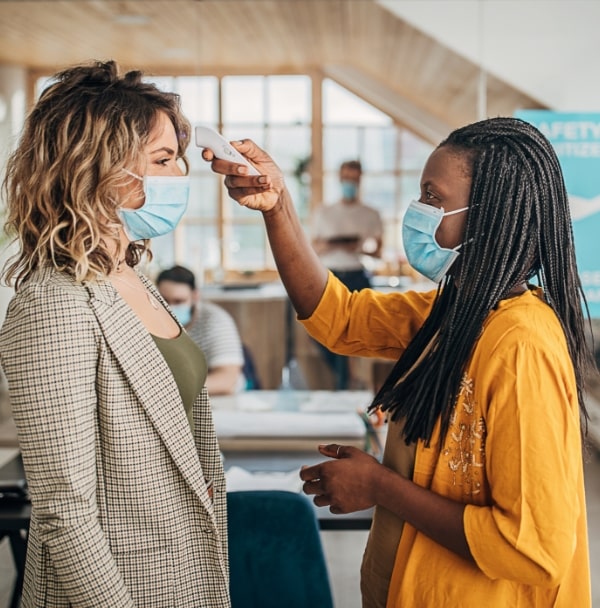 Services
Rapid antigen testing. Secure nursing and clinic coordination assistance for employers who have rapid antigen test kits.
Pre-shift screening. An online tool where employees answer a few quick questions that identify symptoms/risk factors - if they answer a question that indicates they may be a risk, the Registered Nurse can instruct them to stay at home and/or seek medical attention.
On-site screening. Need an extra layer of protection? With this service a Registered Nurse conducts COVID-19 screening questions, takes employee temperatures, and offers consultation if there are indicators that the person may be low-symptomatic or symptomatic. Direction for next steps is provided to all employees who are deemed not safe for work.
One-on-one return-to-work assessments. A 15-minute call with a Registered Nurse helps people understand risks, addresses concerns and educates them about safety protocols.
Serological antibody tests. Once approved by Health Canada, Lifemark will be able to test for IgM antibodies (the first indicators of infection) and IgG antibodies (detectable 14 days after infection). While this is not a diagnostic tool, and it won't identify people who have been more recently infected, it can help pinpoint vulnerable employees.
Offering testing and screening services lowers the risk of employee exposure to COVID-19. Plus, it can help you determine who needs to continue working from home and who can safely return to work, and alleviate anxiety by showing people you're doing everything you can to keep them safe.