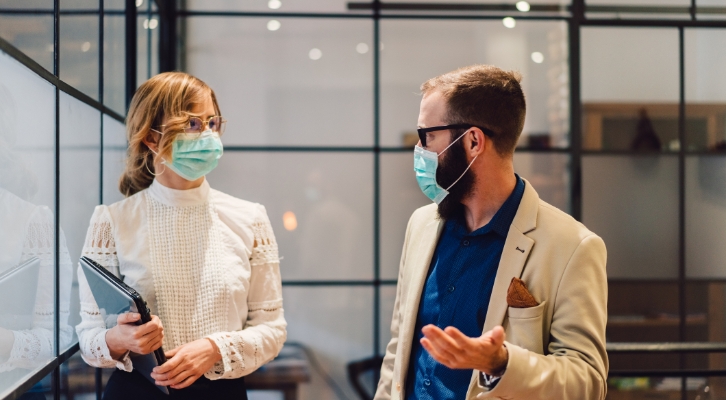 11 strategies for mitigating COVID risk in the workplace
---
As we return to the workplace after a long time sheltering at home, it's natural to have concerns about going from the relative safety of a small social bubble to being exposed to dozens, or even hundreds of people on the job. As an employer there's a lot you can do to cut the risk of infection and ease nervousness around return to work.
Communicate, communicate and communicate some more. Keep employees in the loop about what you're doing to keep them safe and what they need to do to protect themselves. Send emails, organize virtual town halls, host Q&A sessions and share information on your intranet. Post signage with reminders about social distancing, hand hygiene and other important strategies for staying safe.
Have people stay home if they're sick. Even if it's just a cold, if an employee or someone in their household is unwell, tell them not to come in. Encourage this cautious behaviour by adapting your personal/sick leave policy to one that enables people to stay home without financial or professional penalty.
Limit interaction. Encourage physical distancing of 6 feet / 2 metres. Block off seating to ensure there's adequate space between people as they work and put up physical partitions such as cubicles or even a wall of tall plants to ensure this distance is maintained. Post signage, floor decals and other reminders to stay apart – no handshakes or hugs please! Ask people to work remotely if possible and stagger work days (or hours) in the office.
Pre-screen employees daily. Before they come into the workplace make it mandatory that they answer questions about their health, potential exposure to someone with COVID and any recent travel. Stay up to date on current symptoms noted by Health Canada. Lifemark offers pre-shift screening either by phone or on-site, to identify symptoms and risk factors. On-site screening includes a temperature check with an infrared forehead thermometer for an extra layer of security. Read more.
Offer individual return-to-work assessments. More in-depth than a daily pre-screening, these 15-minute phone sessions with a Registered Nurse can help employees determine if they should return to the workplace or continue working from home and/or self-isolating. It's also an opportunity to educate them about workplace safety procedures once they return. Read more.
Make face masks mandatory. If workstations are adequately distanced employees should be able to go without a mask at their desk. They can also go mask-free if they're working outdoors. However, when indoors and not at their desk (in meetings, hallways, washrooms or other common areas), communicate that masks are required, educate them on how to wear and handle them properly and keep plenty of extras on hand. (Many companies are distributing branded reusable masks to employees and clients.) Post signage in key locations as a frequent reminder to keep faces covered.
Make it easy to keep hands clean. Enable good hand hygiene by stocking sinks in washrooms and kitchens with soap and disposable paper towels, and install hand sanitizer dispensers in easy-to-spot locations around the office. Don't forget to make them accessible to all employees including those with disabilities and other access issues.
Boost cleaning protocols. Provide more frequent cleaning of high-touch surfaces (doorknobs, kitchen counters, coffee makers, etc.) throughout the day, with a deeper clean after hours that includes workstations, phones, keyboards and seating. Provide disinfectant wipes so employees can clean their own work areas throughout the day.
Improve ventilation. Do whatever you can to optimize your building's HVAC, open windows if possible and even move some work activities outside... walking meetings are a great way to get fresh air and a little exercise!
Consider providing antibody testing when it becomes available. Once serological antibody tests are approved by Health Canada, they will add an extra weapon to your protection arsenal. Done with a quick finger-prick blood test, they will identify employees who have antibodies (a certain level of immunity) and those who are more vulnerable to infection. Read more.
Offer on-site flu immunization clinics. Did you know it's possible to get COVID-19 and the flu at the same time? That's a double whammy nobody wants to experience. While current vaccines don't protect against COVID (there is no current COVID-19 vaccine), hosting a flu clinic is a strategy that will help keep your people healthy and ensure our healthcare system isn't overwhelmed with flu cases. Read more about Lifemark's on-site flu immunization clinics.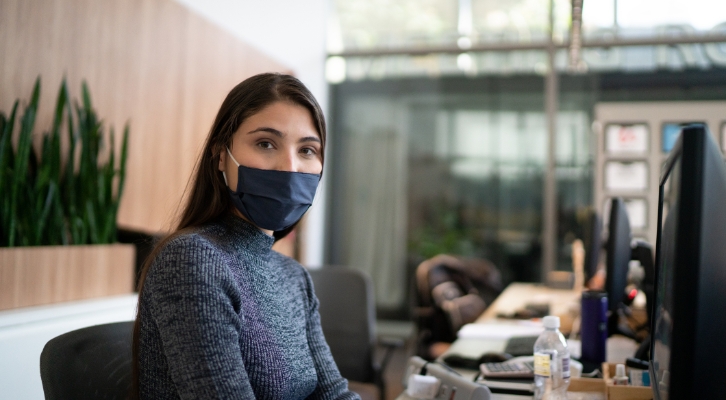 Put these strategies in place to protect your employees, your company and your community. Not only will your employees appreciate that you're doing everything you can to safeguard their health, by keeping them healthy and productive you'll be protecting your bottom line as well.
To find out more about COVID screening services, antibody testing and on-site flu clinics, contact Lifemark today.